NEEDaFIXER in Portugal – Country Edition
We've asked the Head of NEEDaFIXER in Portugal to explain why this is an ideal country to film in.
Portugal may be the country you always wanted to film in but never paid enough attention to. The country's diverse landscapes offer filming crews plenty of location options. Searching for soaring mountains? Amazing waterfalls? Stunning beaches with a sea as bright as the Caribbean? How about Moorish castles, sumptuous palaces or bustling cities? With Portugal's variety of settings, you can have it all. You just have to decide where you want to shoot first.
Over the years, Portugal has emerged as a premier destination for filmmakers. With skilful English-speaking crews and well equipped rental houses, the country possesses everything a producer needs to achieve their goals. In fact, the country has been tried and tested with many big-budget Hollywood productions, including The House of the Spirits, Wim Wender's Lisbon Story, On Her Majesty's Secret Service and The Russia House.
Ranked fifth among the safest countries in Europe, Portugal offers a low-risk environment for any production. Plus, there's plenty of sunshine to enjoy: 250 to 300 days a year without rain make even the most demanding outdoor shoots a breeze.
Tourism has helped Portugal rise to international standards in the way they host foreigners. The Portuguese are a welcoming people who are always willing to help someone from abroad. They go the extra mile to fulfil your needs and make you feel at home, and that applies to tourists and film crews alike.
Unique landscapes and unspoilt settings are common in Portugal, whether on the mainland or the Madeira and Azores islands. The clear waters surrounding Madeira and Azores provide excellent conditions to filming crews looking for nature and wildlife in its purest state. On the mainland, there's much more than beaches: golf pitches overlooking the ocean, unending wheat fields and breathtaking World Heritage vineyards are easy to find. Low-cost airlines offer competitive flights to over a dozen other volcanic islands, where you can shoot next to geysers, craters, boiling calderas, massive waterfalls and lush forests.
General filming permits are required in Lisbon and a few of the largest towns in the country. But when you leave these cities, there are plenty of shooting options available free of charge. Some town halls evaluate proposed productions and may consider them of cultural interest to the city, exempting them from local filming taxes. Also, the government is developing tax policies to attract new shoots to the country.
A rich historical background contributes to Portugal's distinct filming environment. It's possible to recreate almost every era. Take your pick from rupestrian art sites, ancient stone circles and baroque palaces to Moorish villages, rich haciendas, white-painted towns and romantic hideaways. City locations vary from the charming lanes of Lisbon and Porto to super modern condos.
Let yourself discover the pleasure of shooting in a European gem known for its gastronomy. Portugal has a vibrant food culture that's worth showing in food programmes. Even well-known food and travel personalities such as Anthony Bourdain and Rick Stein have sung its praises. Of course, the best cuisine in Portugal is for you to discover yourself. And once you do, we're sure you'll want to come back again and again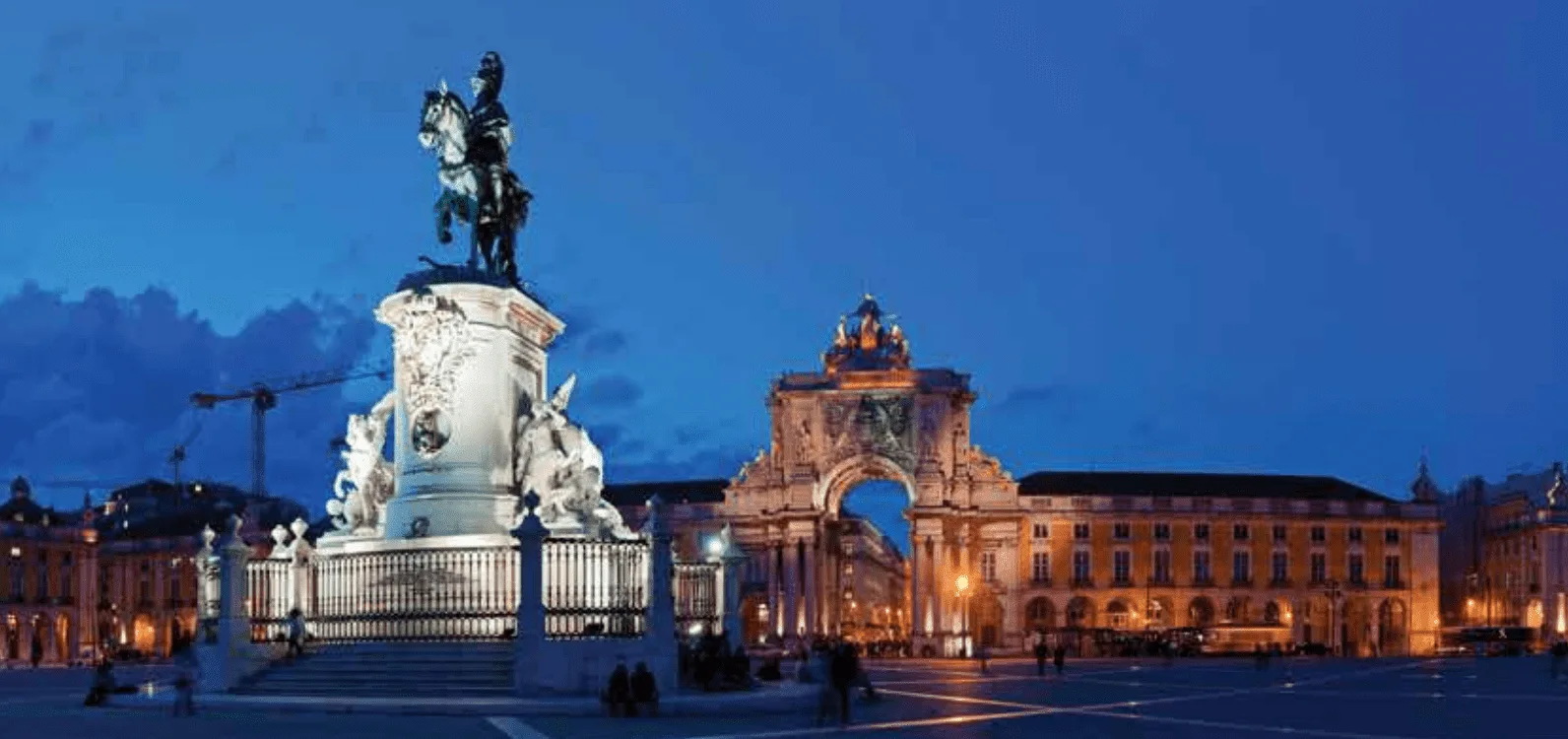 But first, here are eight things you should know about filming in Portugal…
1) Filming permits
Each municipality has its own filming permit policy. Apart from the most touristic ones, however, most of the town halls won't charge for shooting permits. There is a general permit fee in Lisbon, but the local authorities can exempt all taxes if the production showcases the city. Regular permit procedures will be completed in five working days. Special evaluation requests may take up to three weeks. National parks don't usually charge for permits, but there is some bureaucracy to get permits. Fortunately, NEEDaFIXER PORTUGAL is more than used to dealing with permits.
2) Equipment
It's easy to find all sorts of equipment in Portugal. Rental houses offer a great variety of kit, from cameras, lenses, lighting and grip to cranes and other specialised gear. Throughout Lisbon, Porto or the Algarve, you can find suppliers to meet your needs. In case you need to shoot indoors, there is a wide choice of studios for rental.
3) Crew
Talented crew members with extensive experience in cinema, advertising and TV are just a phone call away. Accustomed to working in international productions, they are fit to meet any producer's expectations. You just have to make a list of your needs, and our team at NEEDaFIXER PORTUGAL will find the most talented crew members to come on board.
4) Casting
Extras agencies are used to cast and film people to get producers exactly who they are looking for. Due to its past as a world exploring country, Portugal is home to people from all racial and ethnic backgrounds. For low-budget productions, great deals can be sorted out with local associations.
5) Locations
Apart from snow, there is hardly any setting you won't be able to find in Portugal. Hundreds of churches, mosques and synagogues are everywhere around the country. Fátima hosts one of the most important catholic shrines in Europe, attracting over three million people every year. But there is much more to see! Wild green mountains and forests resembling a Lord of the Rings' set piece, lunar craters straight from a Star Wars scene, waterfalls, shallow beaches and an important heritage site from the Discovery Era are some of the many options available. Portugal also has glamorous casinos, flea markets, medieval villages and castles. Whatever you have in mind, we'll help you find the best spots to set up shop.
6) ATA carnet
Portugal is an ATA Carnet country; therefore, there's no problem if you want to bring your own gear from another ATA Carnet country.
7) Weather
The Algarve is the king of sunny weather with over 300 sunny days a year, but even Lisbon has over 250. Up in the North, it gets chillier and the average rainfall is higher. If you're looking to film in the interior, be aware that it gets really hot in the summer. On the other hand, Madeira offers mild temperatures all year round, rarely dipping below 18 °C.
8) National holidays
Portugal has several national bank holidays. Most municipalities have their local holidays in June.
2017 National Bank Holidays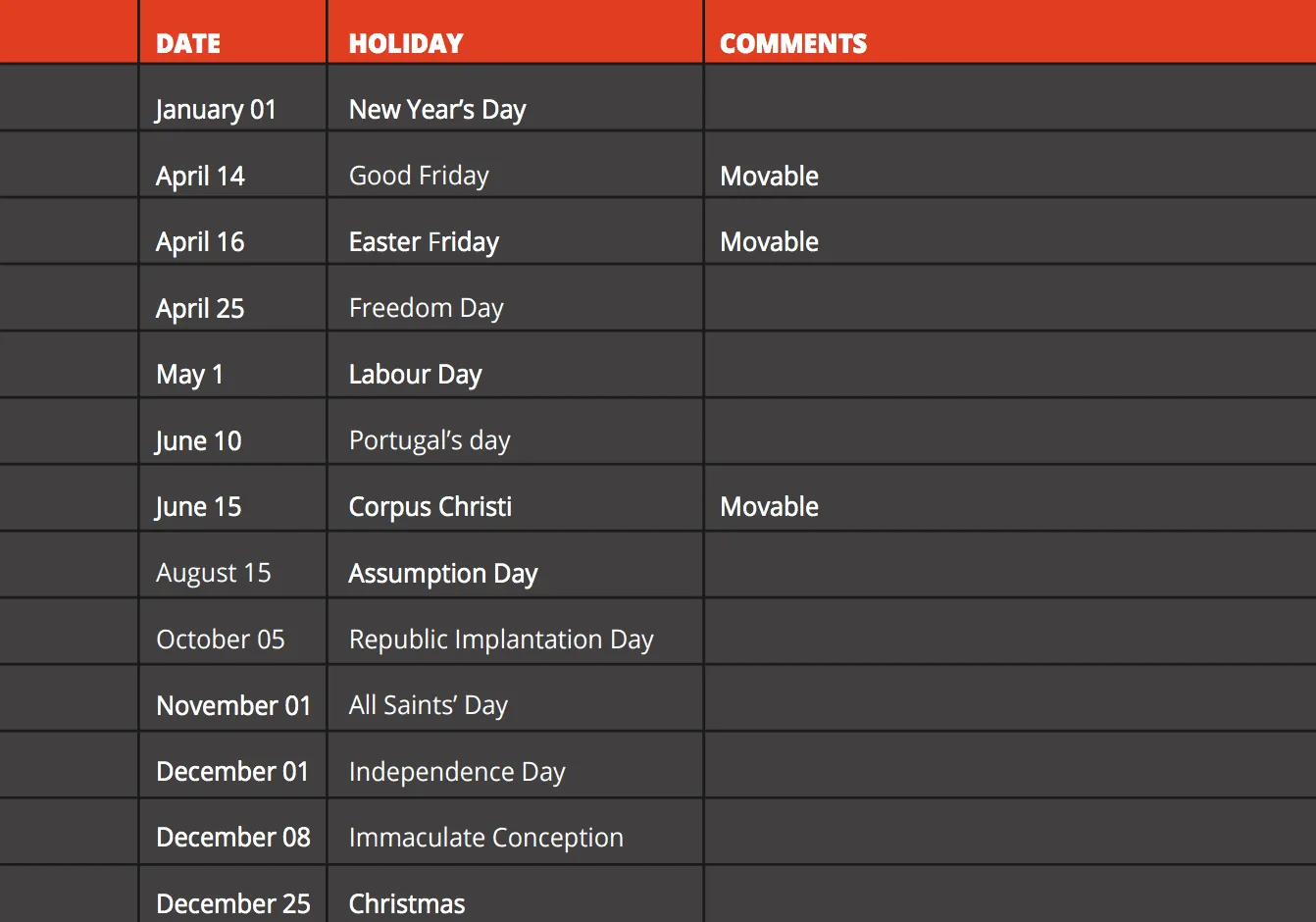 About NEEDaFIXER PORTUGAL
NEEDaFIXER PORTUGAL offers full production services all over the country. We find the right contributors and crews to match all your needs. Our recent work in Portugal includes Europa Saga, to be aired this year on ZDF; Hunting Nazi Treasures, which will be broadcast by History Canada and More4; and VH1's hit series Basketball Wives LA.
See more of our work here.