NEEDaFIXER in Spain – Country Edition

We asked the Head of NEEDaFIXER in Spain to explain in 60" why this is a great country to film in.
Spain is an extremely film friendly country, thanks to an ideal mix of diverse terrain and astonishing views. Its cities, landscapes and attractions have often been chosen as the settings for many international productions, from Sergio Leone's spaghetti westerns to Steven Spielberg's classic adventure: Indiana Jones and the Last Crusade. More recently, movies such as 007: Quantum of Solace, Ron Howard's In The Heart of the Sea and Golden Globe-winning Vicky Cristina Barcelona were filmed there. As a big-screen destination, Spain is certainly tried and true.
Production companies from all around the world have flocked to Spain to shoot their projects, whether for commercials, music videos, online promos, documentaries or feature films. Consequently, the country is fully prepared to host productions of all sorts, and there is never a shortage of available resources at your disposal.
As a result of its large size, Spain occupies three different climate zones. No matter where you decide to shoot, however, expect 300 days of sunshine a year. During the winter months, the Pyrenees or Sierra Nevada are great options for shooting a snowy scene. If you fancy a different kind of backdrop, simply head in the opposite direction to the sunbaked deserts of Monegros or Tabernas or to the picture-perfect coasts of Andalusia. Either way, you can look forward to agreeable weather and a unique quality of natural light during your shoot.
Internationally connected, Spain is a nation with citizens and associations all across the globe, which makes it very easy to find English speaking or multilingual crew. Being a production service country par excellence also means that Spain has a large pool of highly skilled and experienced industry professionals with numerous credits to their names. This asset makes it straightforward to find people who know the language, landscape and needs of filmmakers so you can get the most out of your time shooting.
Now that you know a few things about Spain, why not consider it for your next film project? Of course, NEEDaFIXER is here to lend a helping hand every step of the way to ensure the success of your shoot.

NEEDaFIXER SPAIN
Operating since 2003, NEEDaFIXER SPAIN is a full production house with offices in Madrid and Barcelona but with teams and regular cooperators all over the country. Our team includes producers of different specialties, from TV series to music videos, reality shows, TVCs, documentaries and news programmes.
Our previous work includes but is not limited to Little Mix's latest music video "Shout Out to my Ex", NAT GEO's "Map of Hell", Channel 5's "The Gadget Show" and "Britain's Flashiest Families", Channel 4's "Gordon Ramsay's Costa del Nightmares", Across the Pond's "Google Trips", Josef Salvat's music video "Open Season" and ITV's "Travel Guides".

8 things you want to know when filming in Spain
1) Filming Permits: A general permit allows you to film with crews of up to 10 people. Administrations usually issue them within 1 to 3 days. However, each region/autonomy has its own rules and regulations regarding filming in public spaces. Authorisation from an additional authority is required for filming at beaches or in parks, which may take longer to get. Fortunately, NEEDaFIXER SPAIN can advise on such matters and sort out all the permits and visas needed for filming in the country.
2) Equipment: In Spain, you can find all kinds of kit. There are plenty of rental houses offering the usual gear like cameras, lenses, lighting and grip. Specialised equipment such as cranes, camera cars, animals or picture vehicles can be found in the major production hubs of Madrid and Barcelona. Other locations like Valencia, Malaga, Mallorca and San Sebastian, just to name a few, can fulfil most of your needs too. To make things even easier, we can help you find both standard and specialised equipment. And in the rare case that something can't be sourced locally, we have an extensive catalogue of trusted equipment providers at the ready, making it a breeze to bring in from major European production centres.
3) Crew: The popularity of filming in Spain has helped many local crew members develop skills that are second to none and gain a level of international experience that's hard to beat. At NEEDaFIXER SPAIN, we can assemble the most talented crew to assist with every aspect of planning, organisation and logistics.
4) Casting: Talent and extras in Spain offer competitive buyout fees with flexible rates when compared to other European countries. There is a wide range of casting options with people from different backgrounds, ethnicities, ages, etc. With our huge database of contacts throughout Spain, we can assist you in fixing a diverse and gifted cast. We can even provide you with show reels and tailor made audition tapes so you can choose your cast from the comfort of your own couch.
5) Locations: When it comes to great filming locations, Spain has it all. Take your pick from rolling coasts, rugged mountains, arid deserts and Mediterranean islands or lunar-like volcanoes, lush forests, flowing rivers and rural towns. Spanish cities showcase architecturally stunning, well-preserved buildings of different styles, taking influences from Mudéjar, Romanesque, Gothic and Renaissance to Baroque, Neoclassical, Eclecticism and Catalan Modernism. Whatever you have in mind, our team can help you find the best spots to set up shop for your next shoot.
6) ATA Carnet: Spain is an ATA Carnet country, so it's easy to move goods around. Although you find most equipment locally, there is minimal hassle involved with bringing your own kit.
7) Weather: With around 300 days of sun a year, Spain is almost a natural studio unto itself. The best months to shoot are from April to October, while July through August can get excessively hot.
8) National Holidays: National bank holiday days affect the whole nation, but it's important to be aware of the variable dates of local and regional holidays as well.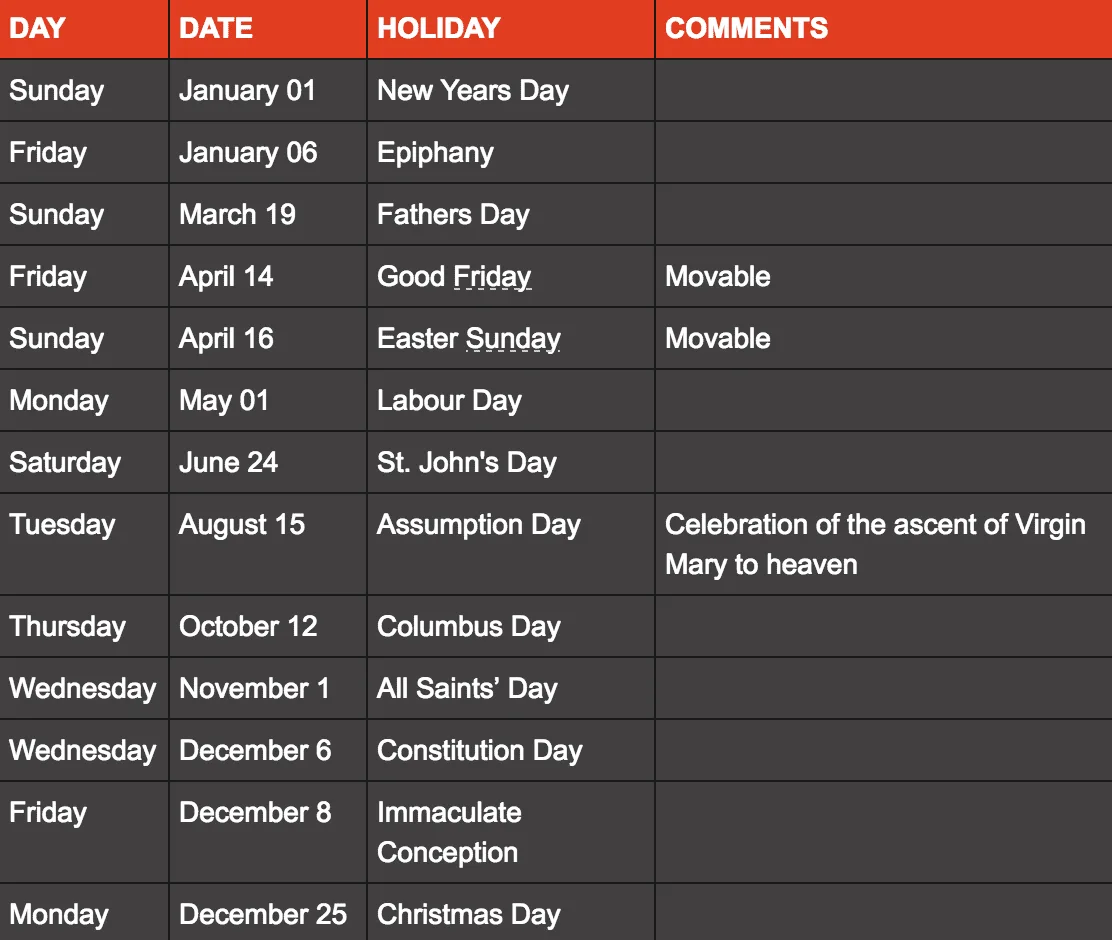 You can see our past work in Spain by following this link