TRENDING TOPICS IN HOTEL MARKETING: LEVERAGING THE POWER OF VIDEO FOR A VISUAL ADVANTAGE
Leveraging the Power of Video for a Visual Advantage
Storytelling has the power to engage, influence and persuade; the hard part is doing it effectively. When it comes to the tale of your destination or hotel, it's important to tell it in a unique and compelling way. And in 2017, video reigns supreme as a medium to convey information.

As marketing statistics prove, video content is highly influential to leisure travellers at all stages of their purchase journey. According to a Google Traveller Study, "66% of travellers watch onlline films when they are thinking of taking a trip; 65% of travellers watch films when they are choosing a destination to visit, and 54% of travellers watch videos when choosing accommodation."
In today's fast-paced world, only a small window of opportunity exists to grab the attention of customers, so it's best to ensure the first impression is a lasting one. A destination video will tell potential guests much more than anything else they can see or read in the same amount of time.
With an effective video you can transport viewers to whole new worlds, speak to their imaginations with stunning visuals or inspire their emotions through the power of sound, music and voiceovers. Ultimately, you can reveal the true essence of your destination – the people, the buildings, the sights, the sounds, the stories and the inspirations behind them.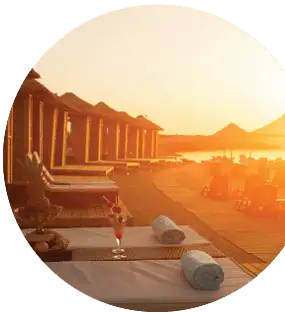 While many leading hotels have all the right ingredients for an unforgettable holiday experience, they don't always manage to showcase them in well-orchestrated film campaigns. By following some simple steps, however, you can be confident that your hotel is presented in a way that cuts through the noise and impacts viewers on a fundamental level.
1. Set a goal.
Like any form of marketing, it's extremely helpful to have a clear objective in mind before creating content. Whether you want to promote a certain aspect of your hotel, boost website traffic or increase guest bookings, setting a goal will determine the nature of your video and help you stay on track. By identifying your primary goal and sticking to it, you can also measure your success later on.
2. Start planning early.
Before you get down to filming, try to start the planning process as soon as possible. Ask yourself the following questions to help form a creative outline:
What is your budget?
Who is your target audience?
What are they looking for
(e.g. best hotels in Greece)?
What is going to catch their interest
(e.g. striking visuals, an engaging script,
a moving musical composition)?
What do you want to happen after viewers
watch your video (e.g. book your hotel)?
3. Let your creativity shine.
Now that you're in a position to tell your story, it's time to get creative. Simply walking around your hotel with a camera won't cut it. Instead, your video must engage viewers in a way that is interesting, exciting, relevant and authentic. So cut out the fluff and preserve only the elements that create visual and emotional connections between your hotel and audience. Be sure to incorporate effective editing techniques and impactful sound & music design to bring your video to life. Most importantly, remember to let the passion for your hotel shine through on film because your audience will surely take notice.
4. Create an online presence.
After your video has been produced, you will need to decide how and where to host it to best achieve your promotional goals. While YouTube continues to be the most used website for travel videos, there are many alternative video hosting services with their own benefits. In most cases, it's best to use a multi-tiered approach by hosting the video on your website as well as social media channels and video sharing platforms like Vimeo and Dailymotion.
Hosting your video on multiple platforms also allows you to publish slightly different versions. For example, you can create short teasers with straplines to encourage viewers to watch the full version or find more information on your website, which leads to more traffic.
5. Promote, promote, promote!
Once you have created an online presence for your video, the next step is to promote it. Blog about it; tweet about it; include it in your next newsletter; share it across as many channels as you can; submit it to film festivals and video competitions… and that's just for starters. As you raise awareness of your hotel and website, don't forget to use a good KPI application like Wistia, which records engagement and analyses how well your video is performing. This information lets you measure the success of your video and determine whether you've achieved the goals set out from the start.
Who We Are
What happens when the leading hotel marketing company with 20+ years of experience joins forces with a global production house operating in over 100 countries?
You get THE MEDIA GROUP: the creative marketing agency par excellence powered by PR MEDIACO and NEEDaFIXER.
Not only do we have the best industry contacts and a proven track of record of success in creating dynamic PR campaigns, but we also specialise in producing award-winning hotel and destination videos for a range of prestigious clients across the globe.
Together, we can bring your vision to life and tell your story so that your message hits the market with a bang!
What We Do
We merge full video production services with strategic and cost-effective campaigns involving PR, digital marketing, sales representation, social media management and community building to present hotels in compelling ways, all of which stand out in the highly competitive tourism and consumer industries.
www.prmediaco.com
Our most recent projects include Canaves Oia – Where Time Stops and Ras Al Khaimah: Beyond A Journey. In under six months, Ras Al Khaimah: Beyond A Journey was named as a Bronze Winner for Cinematography in the 37th Annual Telly Awards and reached over two million views on social media.
www.needafixer.com