The 5 Stages of Video Production
If you're new to video production, you may be wondering what the five stages of production are. In this blog post, we'll discuss each step in detail and provide examples of how they work.
Development
People often overlook the development stage, but it's the most critical part of the production process. The development stage is where you have the initial idea for a video and think about what you want to achieve from the project.
Most people decide the type of video they'd like to create and put together a brief to send to video production companies.
There are many different video types, including:
Music Videos
TV Shows
Movies
Documentaries
Brand Videos
Corporate Videos
Training Videos
Many people like to work with a production agency to develop ideas, but knowing the type of video you'd like to create means you can find the right agency for your needs.
Make sure to include all relevant information in the brief before sending it out to potential collaborators because some agencies might specialise in music videos and movies but don't offer corporate production services.
Pre-Production
Pre-production is the planning stage of video production, where you work with a production agency to determine your goals and plan all elements of the video.
The first steps of the pre-production process include creating a storyboard and script, selecting crew members, and sourcing equipment.
In most cases, your production agency should be able to help you with all of the above, depending on the resources you currently have at your disposal.
The pre-production process is intricate, and you'll also need to find a location, define a budget and find the right cast members to bring your production to life.
Many of our clients ask us to manage the whole process, while some others prefer to maintain control of the pre-production phase and have back-up from our team of professionals.
While this stage can seem really time consuming and stressful, if you plan the production successfully, the other steps will be easy.
Production
The production stage is where the magic happens, and you film your video and capture all of the fantastic footage.
Production can be a long process, depending on the type of video you're creating and the number of shots you need to get.
It's essential to have a clear plan for each day of filming and make sure that everyone involved knows their role and what's expected of them.
If something changes during production, it can cause delays in getting the final product delivered. That's why it's so important to have a good pre-production phase in place.
Post-Production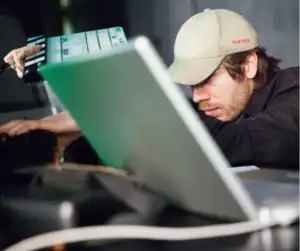 Once production has wrapped up, it's time for post-production. The post-production process includes editing all of the footage and smoothing everything out to create the final video.
The post-production process can take a few weeks, or even months, depending on the length and complexity of the video. You'll also need to add music, graphics, and titles to your video during this stage.
Finally, you'll need to export your video in the correct format so that it can be viewed online or on television.
Post-production is a highly technical task, so if you're not an experienced producer, we'd always recommend that you let your production agency take care of editing and refining your video.
At Need a Fixer, we invite our clients to be as involved as they want during the editing process, which means you can have complete control over what we do without having to lift a finger.
Delivery
The delivery stage is when you finally get to share your amazing video with the world. This is usually done by uploading it to a hosting site or sending it to broadcasters.
Make sure that you have all the relevant permissions in place before releasing your video, as some content may be subject to copyright restrictions.
Once your video is online, it's important to keep track of its performance and make tweaks where necessary. This could involve changing the title, description or thumbnail to improve click-through rates.
Things to Consider
Creating a video for the first time can be a daunting process, but there are so many benefits to using a video production agency, including:
It increases brand awareness
People prefer to watch videos than reading content
You can bring a story to life
You'll achieve more reach
If you're wondering whether video production services are right for you, we'd advise you to ask yourself these questions.
What are my objectives?
What do you want your video to achieve? Is more leads your ultimate goal, or do you want to increase your brand recognition?
It's particularly important to think about your objectives when creating a corporate video because you'll need to justify the production costs and work out your ROI.
Even creative projects such as music videos or movies should have clear goals in place. Not only does this help you to evaluate the success of your video, but it will also enable you to stay on track through the production process.
How experienced am I?
Do you understand all stages of the video production process? Are you OK with using cameras, lighting equipment and editing software?
The last thing you want is to spend a lot of money on your production, only to find the result doesn't generate the right results.
Using a production company might seem like an investment, but it's probably best to work with professionals if you want your video to meet your objectives.
Final Thoughts
Now that you know the five stages of video production, you can decide on the following steps to take. Using the right service can help you achieve your vision and generate a positive ROI.
At Need a Fixer, we can help you with all aspects of video planning, production and delivery. Our team of experienced fixers have worked on a range of projects, from corporate videos to Hollywood movies, and offer a professional service.
Outsourcing your production needs to us doesn't mean you have to lose control of your project because we work with you from start to finish.
If you'd like to learn more about us, please feel free to contact our friendly team for a no-obligation quote.