NEEDaFIXER in Greece – Country Edition
We have given the experts of NEEDaFIXER GREECE in Athens 60'' to explain: WHY GREECE?
Greece is ideal for international shoots, first and foremost because of its abundant natural light. It is a country with 300 days of sunshine a year!
Ranked in third place internationally for the best beaches last year, with 430 of them winning a blue flag award, Greece has 16,000 km of coastline, providing an indefinite number of beautiful beaches to film in.
Equally as many winter locations can be found throughout the country, and one can easily film a snowy scene in the mountains or in the mainland. Further than that, there are more than 200 sites of archaeological importance, and cultural heritage can be found in the capital and throughout the rest of the country.
Earning permission to film in Greece is a breeze as well. General filming permits are issued in less than a week's time and there are absolutely no fees involved. Filming permits for archaeological sites take about a month, but payment of fees can be held off until even the very first day of filming. And for those hoping to film along Greece's world famous coast—worry not! There are no permit fees to film at a beach.
Coming up with the right gear in Greece has never been easier. There is wide availability of all kinds of equipment, from cameras to lights and grip gear, all of which can be found at very competitive prices.
English speaking crew with a strong work ethic are always on-hand to assist with your production, and they are usually available at very affordable rates for 12 hour days.
With all that and more at one's disposal, do we really still need to wonder: WHY GREECE?
NEEDaFIXER GREECE team experience

Operating since 2003, NEEDaFIXER GREECE is a full production house headquartered in Athens with producers of different specialties, from TV series, reality shows, TVCs, documentaries and news programmes. We have been trusted with the work of all major broadcasters, including but not limited to BBC, CNBC, CNN, Channel 4, NHK, Nippon TV, Arte, ZDF, Spiegel TV, Nat Geo and Bravo. We also pride ourselves in our continuous, ongoing coverage of the refugee crisis in Greece for all major broadcasters over the last few years.
Contact us at info@needafixer.com, greece@needafixer.com or simply call us at our main line: +44 (0) 20 8549 2259, and ask to be connected to the office in Greece.
8 things you want to know when filming in Greece

1. Filming permits: A general filming permit is easy to obtain. It is issued in 5 working days at the latest, and it does not involve any fees. It allows you to film in streets and public spaces. For filming in beaches, a special filming permit is required, but this is equally easy to obtain and is also free. For archaeological or cultural heritage sites, you should allow at least a month for permits to be issued, but it is a simple procedure. Fees depend on the exact site and the scale of the production.
2. Equipment: In Greece you will find the latest camera and lighting equipment available for hire at rates truly lower than at any other country in Europe. For instance, an ARRI Alexa Mini or a Red Epic Dragon basic kit can go as low as 580€ and 750€ respectively per week.
3. Crew: Production friendly Greece offers Non-Union, experienced and hard-working crew with exceptional work ethic and an extremely accommodating attitude. Greek crew offer really competitive rates, are used to working 12 hour filming days and are always willing to go the extra mile whenever they are called for.
4. Casting: Talents and extras in Greece offer the most competitive buyout fees, with flexible and significantly low rates compared to other European countries. There is a good and wide range of options, with quite versatile looks of people of various ethnicities.
5. Locations: From blue sea and golden sand beaches to white mountains – Greece offers incredible, easy-to-reach and undiscovered spots at numerous "all in one" locations on the mainland and the islands. At the same time, it offers architecture of all styles and periods that can double for multiple locations around the world.
6. ATA carnet: Greece is an ATA carnet country. Being a part of the European Union, if goods are properly imported into one EU carnet country and re-exported from a second EU carnet country, you are unlikely to encounter any claims fees.
7. Weather: The best time to shoot in Greece is between April and September when the natural light is at its prime.
8. National holidays: Beware of filming during national holidays as rentals, shops, services and public offices will be closed during those days. You can also expect closures or delays in central streets on most of the below holiday dates.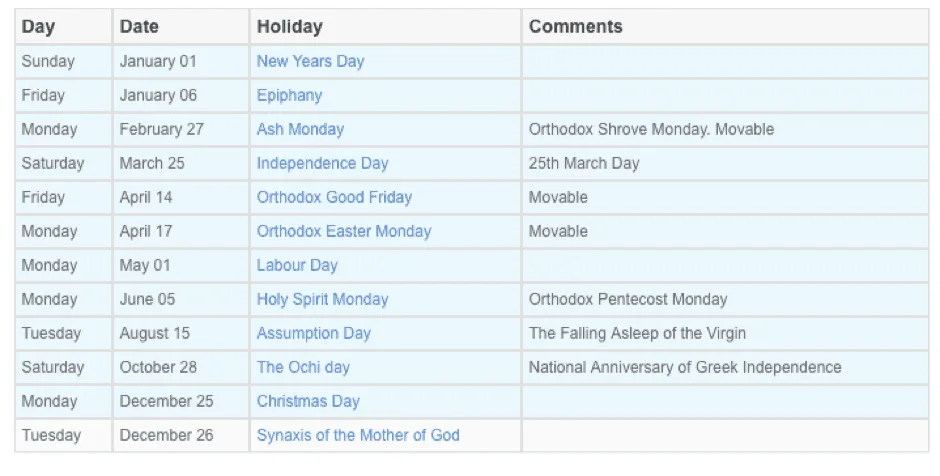 No matter what your production needs may be, NEEDaFIXER GREECE will guarantee a smooth shoot from day one to wrap! Visit our website to learn more.