What Is Commercial Videography? Everything You Need To Know
Commercial videography is the process of creating videos for marketing purposes – including advertising products, services and various causes.
When done correctly, commercial videos can be highly effective in promoting a business or product – but what does the process entail?
Well, this blog post will tell you everything you need to know about commercial videography – so let's get started!
How Do Commercial Videos Work?
Commercial videos can be hit and miss, but they're pure fire when a brand gets it right. You know the ones we mean; the infamous PG Tips advert, or Cadbury's Flake, which still sticks in our heads today.
Cosmetic companies and car manufacturers also use commercial videography to enhance their products and tell stories.
Many companies are willing to pay a lot of money for video marketing and production services because it's an excellent way to reach a target audience.
According to Thinkbox, TV advertising is still one of the best ways to market a product despite the rise of apps and many TV services that let you skip adverts.
Commercial videography isn't just for TV anymore, which means any brand can connect with an audience.
Platforms such as YouTube use advertisements, and if a company can secure a spot on the platform, the results can be wide-reaching.
From Zero to Ad Hero: The Process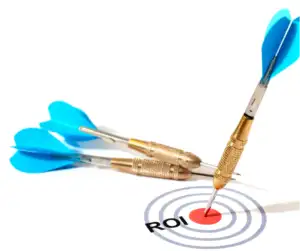 It's no secret that some commercials fail to hit their target, and brands now need to ensure their tone and message aligns with an audience's values (we all remember Peloton!)
Working with a video production company ensures your video will be tasteful impactive, and achieve the ROI you need.
Next, we'll look at the steps involved in commercial video production.
Step One: Costs & Contracts
You'll need to consider how much you're willing to spend on your commercial. This will include the cost of hiring a videographer or video production company and any additional charges such as music rights and location fees.
It's essential to get a quote in writing before proceeding with any work, so there are no nasty surprises further down the line.
Contracts will also detail the costs of each video element, and once that contract is signed, you'll know exactly what you'll spend.
Step Two: The Planning Process
The planning process is key to any commercial videography project. Once you have your budget in place, you can start thinking about your video's creative concept.
You'll need to consider what message you want to communicate and who your target audience is. Once you have a clear idea of what you want to achieve, you can start thinking about the logistics of your shoot.
This includes deciding on a location, cast, and crew. You should also start thinking about the music and sound effects in your commercial.
There are so many people involved in the planning process, including:
Account Managers
Script Writer/Storyboarding
Creative Director
Production Team
Editor
Sound Designer
Working with a video production company means you'll have access to vital crew members rather than hiring people yourself.
Step Three: The Shoot
The shoot is where all the hard work comes together. It's where you'll capture all the footage for your final video.
You'll need to make sure you have everything you need for the shoot, including:
A script
Storyboard
Camera
Lights
Props
Wardrobe
If you're working with a video production company, they will take care of all the equipment and crew needed for the shoot.
All you need to do is provide them with a general theme, and they'll take care of the rest – including storyboarding and scripts if required.
During the shoot, it's important to be flexible and open to changes. Things don't always go according to plan, and the weather is usually the main culprit for disruptions to your shooting schedule.
But, with the right crew, you can make revisions and stay on track.
Step Four: The Edit
Once the shoot is wrapped, it's time to start putting your commercial together. A skilled editor will take all the footage and turn it into a polished final video.
The edit is an essential step in the process, as this is where your brand's story comes to life. A great editor will be able to take your vision and turn it into a reality.
Step Five: The Final Product
Once the edit is complete, you'll have a final video ready to be shared with the world. Your commercial will be distributed across TV, social media, or any other platform you choose.
And there you have it! That's everything you need to know about commercial videography.
Working With a Production Company Versus Going It Alone
Should you go it alone or work with a video production company? Let's take a look at the pros and cons of each:
Video Production Agency:
Pro: Plenty of experience and expertise to bring your vision to life – in the right way.
Pro: Access to the latest equipment and crew members ready to go.
Pro: Skilled in the newest shooting and editing techniques.
Con: Video production can be costly.
Going It Alone:
Pro: You can save money.
Con: If you're not skilled at video production, you could lose money by not achieving a positive ROI.
Con: You'll have to source your production crew and actors.
Con: Without a crew, you'll need to do all the editing yourself.
Hiring a commercial video production company can be more cost-effective than going it alone. When you factor in the cost of equipment, crew, and location fees, it's usually cheaper to hire a company than to do everything yourself.
Final Thoughts
Commercial video production can drastically improve your bottom line by ensuring you connect with a broader audience and have the opportunity to promote your products.
As one of the most prominent video production teams in the UK, we work on projects of all sizes and can help you plan a commercial video that sends the right message.
If you're looking for a high-quality commercial that tells your brand's story, get in touch with our video production company today.
We'll be by your side every step of the way and guarantee a highly professional service.