Best Production Apps to Make Your Life Easier
Life as a filmmaker isn't easy. Film directors and producers must juggle all sorts of elements to ensure a successful shoot.
Luckily, we live in a world full of digital products to support us through the tough projects.
We've gathered some info on a handful of our favourite apps. If these picks don't make your life easier, we'll eat our expert hats!
Even better, many of these apps offer a free trial so you can see if they suit your production style before you part with your hard-earned cash.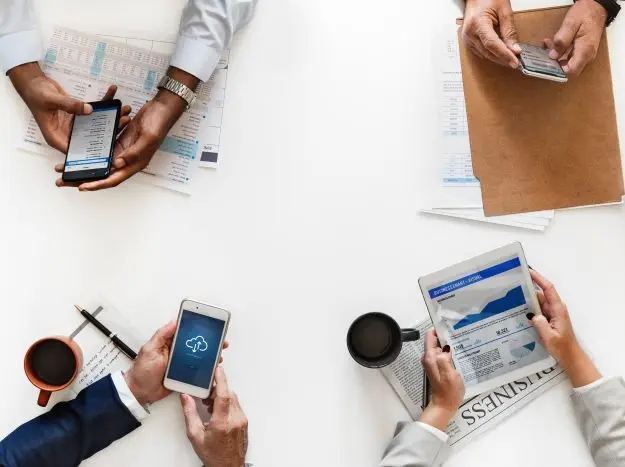 Our Top 6 A-list Production Apps
1. Studiobinder: studiobinder.com
Studiobinder is an internationally-known app that helps filmmakers manage their projects better.
Studiobinder's solutions for better management include call sheets, shot lists and storyboards, contact lists, shooting schedules, script breakdowns and tasks, calendars and file storage. Everything you need to manage your production like a pro.
If this organisational app could help you, why not give it a try on your next project?
2. DSLR Slate: bit.ly/2JBXakB
Geared for DSLR filmmakers, DSLR Slate is a convenient way to collect your slates in one safe place. A universal app, DSLR Slate runs natively on iPad, iPhone and iPod touch. It's beneficial for streamlining shot logging and also in post-production.
The app comes loaded with performance-enhancing features, including a colour chart and selectable running timecode. You'll have all the traditional items for input at your fingertips, such as scene, take and framerate.
What's more, DLSR Slate has specific features for DSLR cameras, such as ISO speed, aperture, shutter speed, white balance, lens, filter and more. Not only are these features handy on set, they also prove helpful when shooting tests in changing lighting conditions.
3. MapAPic: mapapic.com
The best location scouting app for iPhone! MapAPic not only allows you to photograph locations but also organises your snaps in a format that will benefit your shoot.
You can create locations, print locations, share them by email and save them for later. You can even sort photos by the time of day, with geotags and notes, to help you organise your location scouting mission.
Don't ever worry about pens, paper and lost pieces of information again. Make the most of this easy-to-use app so you can save time and effort gathering the information you need! Then you can spend more time on creating.
4. Movie Magic Budgeting: bit.ly/2JSpJJK
Movie Magic Budgeting makes budgeting a breeze! That's simply not possible, you say?
Well, it's true! Movie Magic Budgeting really is magic! The app allows users to create and compare budgets for multiple locations. It also allows filmmakers to estimate incentives for any production size. The idea is that you have an all-in-one system to manage your movie budget.
Movie Magic Budgeting offers clear, concise budgeting to make you an organised filmmaker! To get you started, the website features an hour-long video detailing how Movie Magic Budgeting works from a technical perspective.
Now, there's no excuse for budget mismanagement!
5. Final Draft: finaldraft.com
According to the creators, Final Draft is used by 95% of film and TV productions, so if you're not using it, you must be missing out!
The Final Draft app allows you to write and edit your screenplay on the go. So, when you feel creative, you can get it down straight away!
Final Draft can be used to jot down pretty much any form of a note, including screenplays, stage plays, letters, graphic novels and manuscripts.
The app is particularly useful for filmmakers since you can jot down script alterations on-the-go or save alternative lines for easy access. That way, when you hire your talent, you can show them both versions and base the final choice on their best performance.
Essentially, Final Draft is an on-the-go app that can help you put those final scriptwriting tweaks into your production!
5. Milanote: milanote.com/product/storyboarding
The online storyboard creator Milanote lets you create beautiful, shareable storyboards in minutes.
A storyboard is the perfect way to plan your video, animation or presentation. Milanote lets you quickly map out the visuals, narration and sequence of each scene in a fun and flexible way. In minutes you can bring your story to life, re-arrange frames as it evolves, then share it with your team and move into production.
Bring your story to life Milanote's infinite canvas is the perfect place to plan your story. Add and organize images, videos, notes and diagrams like never before.
Simple drag and drop interface
Re-arranging frames is a breeze. Milanote's easy to use interface lets you update content in seconds so you can focus on creating amazing stories.
Add videos, GIFs, files and more
Storyboards don't have to be static any more. With Milanote you can easily add videos, animated GIFs, PDFs, design files and more.
500,000 beautiful built-in images
Milanote integrates with Unsplash to give you instant access to a huge library of free professional photos to drag and drop into your boards.
NEEDaFIXER Makes Filmmaking Simple
It can be all too easy for filmmaking to become overcomplicated. Just like production apps, we can help with all aspects of your shoot to keep your life simple.
Get in touch with us today about your next shoot. We're just a phone call or click away.