Looking to make a video/film in Germany? From video shorts to films, TV ads & documentaries, NEEDaFIXER Germany has you covered.
Looking for a Fixer in Germany? Looking to find the ideal filming location in Germany? Looking to produce a video, film or documentary in the stunning German countryside or bustling cities? Look no further. NEEDaFIXER Germany has all of your filming & fixer requirements covered.
NEEDaFIXER has helped businesses in Germany to produce:
Documentary Films in German / English
Feature Films in German / English
Hotel Videos & Hospitality Videos in German / English
Corporate Videos / Brand Videos in German / English
Service & Product Videos in German / English
Whatever your production/film/video shooting requirements may be, speak to NEEDaFIXER today.
Want to see some of our work? Check out our incredible portfolio!
From colourful cities that combine the modern and historic, to vast areas of lush, green countryside with mountains, lakes, and Bavarian castles; there are many sides to Germany. Each area of Germany has its own unique personality and look, making it a versatile place to film, whether you want a fairytale land or a gritty backdrop.
Filming in Germany with NEEDaFIXER
Getting permission to film in Germany isn't always the easiest process, although it is usually quick. Each filming location will usually require its own permit, and therefore you'll need the services of NEEDaFIXER GERMANY to guide you through the process. Those from outside the EU might need a work visa, and we can advise on which members of the cast and crew will need permission to work in the country.
Germany has a thriving domestic film industry, and that means the country has excellent infrastructure including several film studios and access to high-quality technology. NEEDaFIXER can arrange for equipment hire if required and can find a local crew such as producers, directors, camera operators, runners, and sound technicians. Most Germans speak excellent English, so it often makes sense to hire locally.
Finding Acting Talent
It's also possible to find a cast in Germany, and NEEDaFIXER can put together a diverse showreel to suit your needs. Germany's location at the heart of Europe also means it's easy to cast from neighbouring countries if there's a certain look you want to find. In general, shooting in the country is usually fairly straightforward, with four-season weather and locals who are welcoming to international film crews.
You will have seen Germany in a large number of high profile productions. It's often used in WW2 dramas, such as Downfall and Germany, Year Zero for authenticity. It's often used in fantasy and fairytale movies, with some famous productions including Willy Wonka & the Chocolate Factory, which used Munich Gasworks as the exterior of the chocolate factory, and Chitty Chitty Bang Bang which used Neuschwanstein Castle in Bavaria. Berlin is also a popular place to film large scale productions with Captain America: Civil War, Jason Bourne, and The Hunger Games: Mockingjay – Part 2 filmed in the city.
Whether it's feature films or indie productions, Germany has a diverse range of acting talent. The country has produced a range of Hollywood talent, including Diane Kruger and Michael Fassbender. We can't forget Hollywood legend Marlene Dietrich, whose memory lives on.
As one of the cultural capitals of Europe, many actors flock to the country, so we're confident that your search for talent will be an easy one.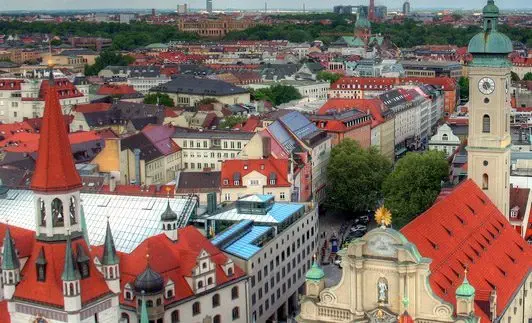 There are endless potential filming locations in the country, which is why NEEDaFIXER GERMANY can help you out. Berlin has become the centre of the movie industry in Germany, and The Hunger Games: Mockingjay – Part 2 made used of some of its disused buildings to create a gritty backdrop. It has also been used in many recent action movies such as Jason Bourne, which used the more modern areas of the city for action sequences. The movie used the now-iconic Oberbaum Bridge, which was also featured in the cult film Run Lola Run. Germany has vast areas of mountains, lakes, and greenery outside of the cities, and the Bavaria region is hugely popular for filming fantasy and kids' movies. From castles to villages, there's lots of spectacular scenery to be found.
Munich
Munich is without a doubt one of the most popular locations in Germany. The Bavarian region features stunning castles, old fashioned landscapes and is the home of the Bavarian Outdoor Film Festival.
Berlin
Berlin is a hot spot for younger generations and its eclectic culture has been renowned for LGBTQIA travel and diversity. If you're looking for a city to put on the screen, Berlin is a natural choice.
Frankfurt
Frankfurt is a major financial hub with a modern appeal. The city was mostly rebuilt after World War II, which contributes to the technology-focused infrastructure. If you're looking for a modern city, then Frankfurt is an excellent option.
What can our fixers in Germany do for you?
The NEEDaFIXER GERMANY team have excellent local knowledge when it comes to filming in the country, and this can make the production process easier. We ensure you have the right cast, crew, and equipment, and take care of things such as transport and accommodation. This frees you up so you can focus on the creative side of your shoot. The process of filming in Germany can be bureaucratic, and so we take care of work visas and filming permits, using our knowledge of the industry to ensure everything runs smoothly. Simply contact info@needafixer.com to find out how we can help you.
NEEDaFIXER has extensive resources for all productions be it a film, documentary, hotel video, TV ad, feature film, corporate video or pretty much anything else video related.
Fixers
Drivers
Permits / Permit Management
Cameraman / Camera Operators
DOP (Director of Photography)
Directors
Filming Crews
Gaffers
PA's
Videographers
Cinematographers
Filmmakers
Drone Operators
Production Crew
Color Graders
Assistant Directors
AD / 1st AD
Focus Pullers
Sound Operators
Production House
Frequently Asked Questions
How easy is it to get permits?
It can be quite a lengthy process but generally is pretty easy and speedy with a fixer involved. One location can often require a variety of different permits, so please do contact us for more information.
Do I need a visa or work permit?
You will need a permit to enter Germany, but it's an easy process – especially if you're an EU citizen.
Can I hire equipment once there?
You can hire equipment, especially if you're filming around Babelsberg studios, but our team work with plenty of companies that can supply you with the right filming equipment such as camera, lighting and audio. We'll also provide assistance with managing the costs associated.
What is the climate like?
Germany's climate is much like England. There are distinct shifts between seasons, but unlike the English weather – Germany's is more predictable.
'NEEDaFIXER team provide a professional and efficient service and they react very well to last minute production requests and changes. We have used them on numerous location shoots and we have always felt a high degree of trust and reliability. I wouldn't hesitate in working with them on future productions.'
–
Karen Knowles
Producer / RICOCHET
Want to know more? Send us an enquiry